About Best Western Hotel Vilnius****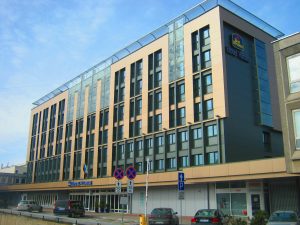 BEST WESTERN Vilnius Hotel**** is located right in the centre of the capital city, Konstitucijos avenue, in a modern district of business, commerce and entertainment. The hotel stands next to the river Neris, near the Old Town of Vilnius with its major sites of attraction.
The hotel services, cosy interior, qualified staff and convenient location will appeal to all guests, whether travelling for business purpose or as tourists. All rooms include: air conditioner, satellite TV, free wireless internet access,  mini bar, work desk,telephone, wardrobe, bathtub or shower, hair dryer.
Distances:
Vilnius International Airport – 7 km
Vilnius Railway Station, Vilnius Bus Station – 4 km
Lithuanian National Opera and Ballet Theatre, Congress Concert Hall – 800 m
National Gallery of Art– 450 m
National Museum of Lithuania, Palace of the Grand Dukes of Lithuania – 1.4 km
Vilnius City Municipality – 250 m
Fashion and style centre Europa – 300 m
Vilnius Central Department Store (VCUP) – 100 m
Shopping centre "Panorama" – 1.5 km
More information: http://vilniushotel.eu/EN/Vilnius
Booking: using hotel Best Western booking form.
About Comfort Hotel LT – Rock 'n' Roll Vilnius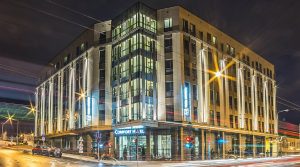 A hotel revolution in central Vilnius! Comfort Hotel LT – Rock 'n' Roll Vilnius is a modern, music-themed hotel. Free WiFi is always cool. Free organic breakfast to quench your hunger after a workout in our free gym makes for a pretty good deal. 200 rooms with an urban twist, 32-inch flat screens for all, individually air conditioned and heated bathroom floors. Hairdryer, ultra comfortable beds, big desk to get those emails written, smooth armchairs and reading lights. Heck, you can even choose if you want wooden or carpeted floors. 5 suit rooms are decorated in honor of 'The Beatles', The Rolling Stones', Madonna, Frank Sinatra, Louis Armstrong.
Being a part of the international Nordic Choice Hotels group of hotels, we have access to some quite cool stuff we've picked up from our Nordic friends.
Location: Comfort Hotel LT – Rock 'n' Roll Vilnius is situated 700 meters from the Vilnius Train Station and Vilnius International Airport is only 4 km away. There is also a direct bus route to the airport. IKI Supermarket is located on the opposite side of the street, just 50 metres away.
More information and booking using link and Promo code PABRADE: http://www.comforthotel.lt/pabrade